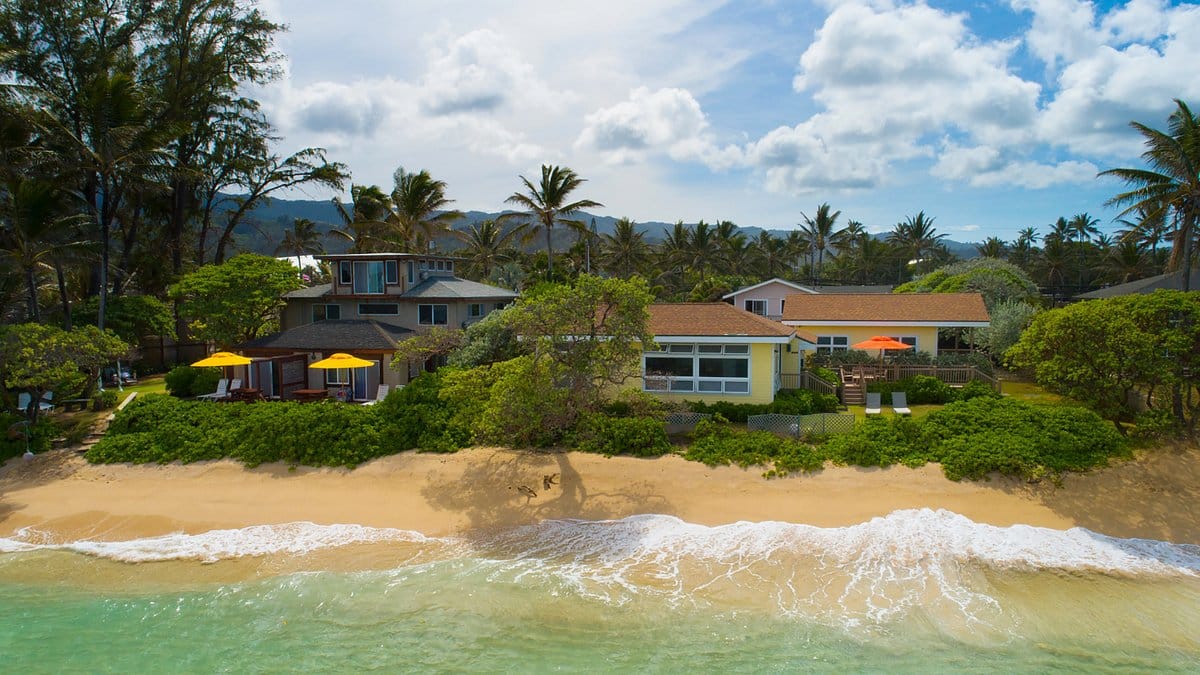 Hawaii beach is one of the most beautiful sea beaches. Every year a lot of people visit Hawaii beach for relaxation and to see the beauty of nature. Very few places on earth can compete with the impressive nature of Hawaii. This tropical heaven on earth is filled up with incredible coastlines, exciting water-based adventures, and luxurious landscapes. 
Are you planning to visit Hawaii? Then you must be dreaming of a mesmerizing stay in Hawaii, right? Hawaii beach bungalows are the best choice for you to stay in and see the natural view. Now you must be thinking about which beach bungalow will be perfect for you to stay. Don't need to worry much I'm going to mention the 7 best Hawaii beach bungalows for rentals. 
Hawaii Bungalows on the Beach
Tiki Moon Villas 
Tiki Moon Villa is one of the most beautiful villas located on Hawaii beach. They have a huge amount of cottages or villas located in amazing places in Hawaii Beach. centrally located from hot spots and also offers top-notch accommodation. You can enjoy sandy beaches and vivid views of the Pacific ocean from these private Hawaii beach bungalows. 
Tiki moon villas Bungalows:
Coco Bungalow

Papaya 1

Papaya 2

Papaya 3

Papaya Coco

Bamboo 1

Bamboo 2

Bamboo Coco

Ocean Breeze

Ocean Sun
These villas are set between the beach and Kamehameha Highway. This bungalow is designed specifically for beach living and this is one of the most attractive Hawaii beach bungalows because of its unique light-colored interior.  
At Tiki moon villas you will find both Ocean Front and Beach Front bungalows. In the roar of the sea and in the cool breeze, you can enjoy some of the best moments of your life here. Also, you will be impressed by the beautiful hospitality of Tiki Moon Villas. Maybe this villa is a witness to a wonderful journey of your life.
Turtle Bay Resort 
Now we are going to talk about another best rentals in Hawaii. After Tiki Moon Villa this Turtle Bay Resort is the most amazing view and is beneficial. Turtle Bay Resort is a 5-mile stretch of oceanfront on Oahu's North Shore with two championship 18-hole golf courses designed by Arnold Palmer and George Fazio. Each of the guest rooms has a view of the ocean. Each air-conditioned guest room has a TV with cable channels, a refrigerator, and a coffee maker. The room is decorated in a modern, laid-back Hawaiian style with light-colored bedding. 
Massage therapy, body treatments, and aesthetic services are all available at Nalu Kinetic Spa. A fitness center offers group workout and yoga programs, as well as personal trainers. There are two hot tubs and a water slide for guests to enjoy. On-site activities include horseback riding, Segway excursions, helicopter tours, snorkeling, and stand-up paddleboarding, surfing, and scuba instruction. 
The Roy's Beach House, with its sand-floored restaurant, serves modern Hawaiian cuisine, while the Pa'akai's fish specialties are made with local, organic ingredients. The Point Bar & Grill, located beside the pool, serves beverages and light meals. Breakfast, lunch, and dinner are served at Lei Lei's Bar & Grill, which overlooks the golf course. Grab-and-go alternatives are available in the Lobby Lounge.
Ke Iki Beach Bungalow 
Bungalows on Oahu's Beautiful North Shore with Ocean Views. On an acre and a half of palm-fringed beachfront grounds, guests may enjoy romantic sunsets.
 All of the beachfront bungalows were completely rebuilt in 2020 and offer stunning views of the ocean and sunset. The Ke Iki Beach Bungalows are a wonderful spot to unwind and take in the sights of this Hawaiian paradise. If you've been fantasizing about escaping to paradise, Ke Iki Bea is the place to be. 
Kona Beach Bungalow
Kona beach bungalow is one of the beautiful bungalows in Hawaii. Kona Beach Bungalow has six award-winning luxury oceanfront vacation rental residences. 
The amazing thing is you will get a perfect wedding/reception venue there which is a great thing to make your most important day much more memorable and special. They have a lot of reputation as a wedding venue. Here you will find all the luxury rooms to stay in, which are also expensive. Also, you will get a Helicopter offer from them to explore an incredible island from the air. 
Waimanalo Beach Cottage 
Ideal for huge gatherings and weddings! A five-night minimum stay is required. Discount for groups of 20 or more people. The historic Waimanalo Beach Cottages are a lovely country retreat. Stay from Waimanalo Beach, where you may watch the most spectacular sunrises and do beach yoga classes. 
Waimanalo Beach Cottages offers all of Hawaii's natural beauty without the crowds. Life passes at a slower pace here. It's a Hawaiian homelands society, which means most of the residents are of Hawaiian ancestry. You'll get a sense of what authentic Hawaiian culture is like in Waimanalo. Waimanalo Beach Cottages is a fantastic place to organize gatherings. They do not accommodate wedding ceremonies on the site, but beach weddings are permitted. 
The Bungalows Hawaii 
The Bungalow Hawaii has 700 square foot Bungalows that have two air-conditioned bedrooms, one bathroom, a living area, a fully furnished kitchen, a barbeque grill, and a full-size washer and dryer, these are right on the beach. 
From December to March, there is a big front yard where you can relax and enjoy the ocean waves, gorgeous sunsets, and whales breaching the water. From their beach, you may swim with big sea turtles, snorkel the coral reef, fish, surf, and boogie board. For Hollywood buffs, the TV show Lost, as well as a few others, was filmed here. The Bungalows Hawaii has hosted TV show producers, radio personalities, authors, and others. 
Dunbar Beachfront Cottages 
On the verdant East end of Moloka'i, your own private beach greets you. The stress and problems of the modern world seem to wash away with each new tide here on the most Hawaiian island. 
Each of their holiday villas is located directly on the water and has its own private beach. The two-bedroom, one-bathroom designs offer panoramic views of Maui, Lana'i, and Kaho'olawe. From December to April, the vantage locations are ideal for whale watching. Dunbar Beach Cottages are one of the amazing hawaii bungalows on the beach. 
These are the 7 best beach bungalows in Hawaii. May you find this article helpful. It's a short guideline for you if you are thinking of visiting Hawaii beach.